Enabling a Better Tomorrow: A Systemic Perspective
From SystemsWiki
It is evident from the current state of things around us that we're not nearly as good at dealing with situations as we could, should, or need to be. Typically our actions to address situations end up making the situation worse, or result in unintended consequences which present themselves as additional situations that have to be dealt with. Often it seems like we're playing Issue Whack-a-Mole. One might say that when it comes to dealing with situations we're the poster children for Pogo's "We have met the enemy and he is us!" The intent of this eLearning Map (eLMap) is to present participants with an approach for dealing with situations which effectively produces the intended results in a manner such that the situation doesn't arise again in the future and doesn't create unintended consequences that also have to be dealt with later.
This content was developed by Gene Bellinger, a passionate Systems Thinker, co author of Beyond Connecting the Dots: Modeling for Meaningful Results, host of the Systems Thinking World discussion group on LinkedIn and developer of the SystemsWiki.org website.
| | | | | | |
| --- | --- | --- | --- | --- | --- |
| | EaBT presented as a 15 thread eLMap of models, videos and references intended to develop one's capacity to effectively deal with situations. | | Content covers conceptual thinking, influence diagramming, simulation modeling and web based collaborative methods. | | Kumu is used to create the program learning threads and integrate models, videos and articles for ease of navigation. |
| | Insight Maker is a free web based multi-user modeling & simulation environment supporting collaborative model development. | | YouTube videos are used to demonstrate many of the concepts as it seems far more effective than reading. | | Discussions are used to post perceptions, questions and learning segment assignments for review and comment. |
| | Internet Sessions are used to review learning thread concepts and answer participant questions. | | Reference Library of relevant articles, models and videos is provided for use in the learning threads and in the future. | | Guest Presenters provide additional perspectives for several segments of the program. |
| | Newsletters periodically distributed to notify members of content updates, events that may be of interest including internet sessions. | | Systems Thinking World, a LinkedIn discussion group of 19,000+ engaged Systems Thinkers is open to participants. | | |
You may access Enabling a Better Tomorrow as a Consumer with a $14.95 donation. Once you complete the donation process Click Return to Systems Thinking World and you will be taken to the Registered for EaBT page where you will find directions for creating your free Kumu account to access the eLMap. Also note that payments are considered donations in support of Systems Thinking World, a 501(c)3 nonprofit organization, and as such may be considered tax deductions for those who file US Federal Taxes.
| | |
| --- | --- |
| Sincerely, | Consumer $14.95 |
Noteworthy Items & Future Events
EaBT eLMap
Enabling a Better Tomorrow is implemented as an eLearning Map (eLMap) of learning threads that one travels to develop an understanding, and in some instances skills, for specific concept segments.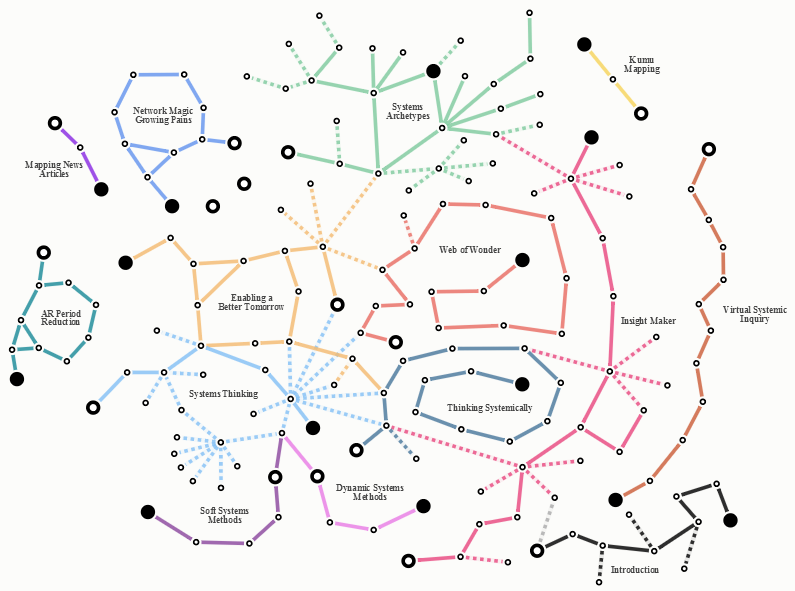 Content
The content of the learning threads is designed to initially provide a concept experience which is then supported by exercises intended to reinforce the concepts presented. While the content continues to evolve on an ongoing basis the segments are currently...
Introduction. There are numerous web utilities integrated though Kumu to enable this content to unfold in a meaningful manner. This sections explains which utilities are employed and why.
Web of Wonder. Everything is connected to everything else, though how do you make sense of it. Understanding the web of interactions is not nearly as difficult as it may seem.
Systems Thinking. For all the hype about Systems Thinking, what is it really and how is it relevant to whatever you're attempting to accomplish?
Insight Maker. Learn to use a web based modeling and simulation environment to create rich pictures, causal loop diagrams and simulation models.
Thinking Systemically. Now that you have acquired a basic understanding and tools learn how to begin applying them to develop models to promote better understanding of why situations are they way they are.
Enabling a Better Tomorrow. The intent is to create approaches to dealing with situations such that problems stay solved and you don't create new ones in the process. This section presents an introduction to a process for achieving that.
Network Magic Growing Pains. The Enabling a Better Tomorrow process applied to a very successful small start up company that's having difficulty staffing to keep pace with their growth.
AR Period Reduction. The Enabling a Better Tomorrow process applied to an organization having difficulty getting an handle on their accounts receivables.
Systems Archetypes. There are frequently recurring structures with characteristic patterns of behavior and well defined strategies for dealing with these structures. Learning to identify the patterns of behavior and the underlying structures can save you a substantial amount of effort trying to figure out how to deal with these structures.
Virtual Systemic Inquiry. How do you address situations when you don't know who the most appropriate people are and if you manage to identify them they're in a dozen different time zones and already extremely engaged. The VSI process will provide an approach to dealing with this.
Kumu Mapping. Learn to use a very fluid environment for creating relationship maps to aid in understanding situations and developing strategies to deal with them.
Mapping News Articles. Use Kumu to develop relationship maps for articles about current events.
Dynamic Systems Methods. System Dynamics and Viable Systems Model offer insights as to how to understand situations where the dynamics are complex and the stakeholders are well aligned.
Soft Systems Methods. Learn about methods used to investigate approaches for dealing with situations where the stakeholders are not initially well aligned in terms of purpose.
Certification. Guidelines to completing the assignments for receiving certification for Enabling a Better Tomorrow.
Kumu
Kumu is a web based multi-user relationship mapping environment which is used as the integration environment for the narrative, models and videos presented as the Enabling a Better Tomorrow eLMap. And in one learning segment you will learn how to develop relationship maps with Kumu.
Insight Maker
Insight Maker is a free multi-user web based modeling and simulation environment which is used to present the models and simulations for various thread elements. In one learning thread you will begin to use Insight Maker to develop Rich Pictures, Causal Loop Diagrams, and Simulation Models.
YouTube
YouTube videos are used to dynamically present concepts rather than providing text that to be read. In addition the Systems Thinking World YouTube Channel has over 400 systems thinking related videos. If you subscribe to the channel you will be notified when new videos are published.
Discussions
A discussion feature is integrated into the Enabling a Better Tomorrow which allows you to share your perspectives with others interacting with the learning threads of the eLMap. There is a separate discussion thread for each learning thread and new discussions may be initiated for exchanging thoughts and questions on the content with others.
Internet Sessions
Periodically internet sessions will be scheduled to review segments of the content followed by a Q&A session. It is expected there will be at least one of these sessions a month though typically more often. Also the fall internet schedule is posted and you may register for sessions of interest.
Reference Library
Integrated into the content is the author's Diigo reference library of systems thinking related material.
Guest Presenters
Periodically guest presenters will participate in the internet sessions. Some of the previous participants have included...
Scott Fortmann-Roe. Dr. Scott Fortmann-Roe has extensive experience developing models and modeling software. He is the author of variety of simulation and modeling tools including Insight Maker, Simgua and A3. He is also the author of several research articles on simulation and modeling including "Contingent Kernel Density Estimation" (PLoS ONE) and "Insight Maker: A general-purpose tool for web-based modeling & simulation" (Simulation Modeling Practice and Theory, In Press). Together with Gene Bellinger, he is the author of Beyond Connecting the Dots: Modeling for Effective Results. He currently works at Google developing software, performing analyses and creating models to improve the success of AdWords' customers. He received his PhD in Environmental Science Policy and Management from UC Berkeley in 2014.
Rebecca Niles. Rebecca brings technology savvy and 15+ years of entrepreneurial and consulting expertise to Leverage Networks. She applies the tools of systems thinking across a range of areas, including healthcare, education, sustainability business strategy, and operations management. Rebecca leads the company's partnership program, identifying organizations to work with on content creation, knowledge sharing and support services.
Susan Gibson. Susan Gibson is on a mission to bring humanity back to IT. With over thirty years in the tech industry – from developer to management consultant and pioneering Agile coach to Temenos Facilitator, Susan consistently seeks ways to bring authenticity and compassion to software and product delivery. Today she works with Fortune 500 companies using Agile and Temenos to create change and true cultural transformation. As a Temenos Facilitator, Susan also leads transformative 3-day labs that apply these same methodologies on a more personal level.
Jeff Mohr. Jeff is the co-founder and CEO of Kumu, a web-based platform for tracking and visualizing relationships, combining system and network mapping to tackle complex issues. Jeff also works for the Omidyar Group, launching and managing a variety of statewide initiatives to improve quality of life in Hawaii and supporting the global governance function. Born and raised in California, Jeff now splits time between California and Hawaii, is an avid trail runner, and loves gummies & good design.
Newsletters
Newsletters will be periodically distributed to participants to advise of content updates as well as scheduled internet sessions and coming events of potential interest.
Systems Thinking World
Systems Thinking World was established by and for those who believe a systemic perspective provides the best foundation for creating effective approaches for dealing with challenges and shaping a better tomorrow. Our purpose is to create content and foster interactions which further understanding of a systemic perspective and enables thinking and acting systemically. Please review the Website and you are invited to join the LinkedIn Discussion Group.